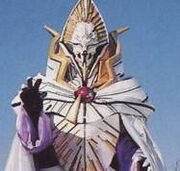 The main villain of Big Bad Beetleborgs and the leader of the Magnavores, he looses his patience with his Magnivores' incompetence. He was destroyed briefly by the combined efforts of all three Beetleborgs, after Drew battled with and destroyed Shadow Borg. He quickly revived himself, sprouting a new body and face and managed to grow giant. In his following appearance, he somehow switched back to his old appearance.
Ad blocker interference detected!
Wikia is a free-to-use site that makes money from advertising. We have a modified experience for viewers using ad blockers

Wikia is not accessible if you've made further modifications. Remove the custom ad blocker rule(s) and the page will load as expected.