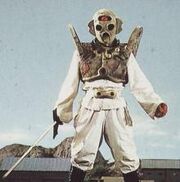 A vase monster created by Lord Zedd from Tommy's art project. 
After being made huge by Zedd, Vase Face takes on the Thunder Megazord. He extends tendril-like tentacles made of a clay substance, wrapping it around the zord. The Tigerzord blows them free by blasting Vase Face with a Thunder Bolt and the Thunder Megazord takes the opportunity to retaliate by attacking Vase Face with the Thunder Saber, destroying him.
Ad blocker interference detected!
Wikia is a free-to-use site that makes money from advertising. We have a modified experience for viewers using ad blockers

Wikia is not accessible if you've made further modifications. Remove the custom ad blocker rule(s) and the page will load as expected.