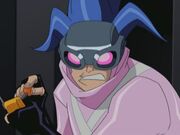 At first, Cosmo Krank was the C.E.O. of a toy company named "Krank Co." that creates incredibly futuristic toys. However, Bruce Wayne notices that Krank Co's toys are very dangerous. So, he led a campaign that eventually closed down Krank Co. for good. Enraged, Cosmo Krank becomes a villain named "the Toymaker," who uses his toys in his attempt to get revenge on Bruce Wayne.
Ad blocker interference detected!
Wikia is a free-to-use site that makes money from advertising. We have a modified experience for viewers using ad blockers

Wikia is not accessible if you've made further modifications. Remove the custom ad blocker rule(s) and the page will load as expected.