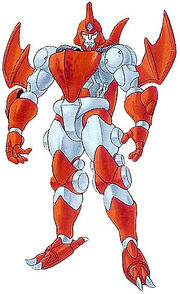 Usurper and aerial combatant; his beast form is a red pteranodon. As well as his aerial prowess, Terrorsaur's offensive weaponry included laser cannons in his optics, similar to that of Dinobot, but his preferred weapons were his shoulder-mounted cannons, forearm mounted double barreled cannon and hand-held pistol. He often attempted to overthrow Megatron for leadership of the Predacons (reminiscent of his Decepticon Air Commander predecessor: Starscream) but was never successful in the end. Like Scorponok, he also was destroyed by lava during the Quantum Surge. His beast mode was a Pteranodon.
Ad blocker interference detected!
Wikia is a free-to-use site that makes money from advertising. We have a modified experience for viewers using ad blockers

Wikia is not accessible if you've made further modifications. Remove the custom ad blocker rule(s) and the page will load as expected.