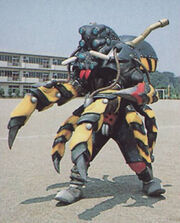 A robot tarantula monster fought the rangers and was defeated by the Zeo Cannon. After growing, he beats the Zeo Megazord and Red Battlezord, preparing to have them for lunch, and then Pyramidas saves them. They form the Zeo Ultrazord and Tarantabot quivers in fear before being destroyed by Zeo Ultrazord. "A Small Problem"
Ad blocker interference detected!
Wikia is a free-to-use site that makes money from advertising. We have a modified experience for viewers using ad blockers

Wikia is not accessible if you've made further modifications. Remove the custom ad blocker rule(s) and the page will load as expected.