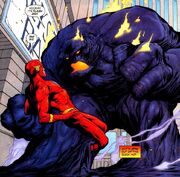 Joey Monteleone was the younger brother of Jack "the Candyman" Monteleone, Keystone's leader in illegal drug trafficking. Like his brother, Joey didn't much care for following the law and used his ability to astral project into inanimate objects to cause chaos. Eventually, his consciousness got stuck in a bunch of asphalt and he became known as Tar Pit.
Ad blocker interference detected!
Wikia is a free-to-use site that makes money from advertising. We have a modified experience for viewers using ad blockers

Wikia is not accessible if you've made further modifications. Remove the custom ad blocker rule(s) and the page will load as expected.