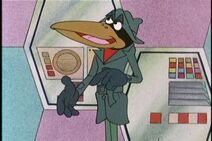 Stiletto Mafiosa is a villain and character in the telvision show: Danger Mouse.
Biography
Edit
Stiletto is one Baron Greenback's evil henchcrows, the other being Leatherhead.
He is often seen helping his boss whom he refers to as "Barone"
---
Leatherhead is a minor villain and character in the Danger Mouse series.
Biography

Leatherhead was Baron Greenback's henchcrow alongside Stiletto Mafiosa. He only appeared in a few episodes of the series.
Personality

Leatherhead is just as wicked as Stiletto, only he sometimes pays no attention to the action that is going on and has his beak in a comic book.
Ad blocker interference detected!
Wikia is a free-to-use site that makes money from advertising. We have a modified experience for viewers using ad blockers

Wikia is not accessible if you've made further modifications. Remove the custom ad blocker rule(s) and the page will load as expected.