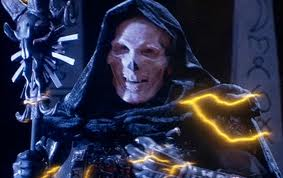 Masters of the Universe (1987 film)[edit] Edit
Frank Langella as Skeletor inMasters of the Universe
Skeletor was the primary villain in the 1987 live-action film portrayed by Frank Langella. As this was a motion picture, Skeletor was allowed to be far more menacing and less comical. To prepare for the role, Langella had asked his kids questions about the character and watched the series.[9] During the course of the movie, Skeletor captures Castle Grayskull and imprisons the Sorceress. Later, he absorbs the power of the Great Eye and transforms into a golden-armored warrior god, but is ultimately defeated by He-Man. Langella's version of Skeletor is clad in more regal attire than is traditionally seen. Rather than dark purple, he wears all black, and his costume is less scant, covering his entire body with a robe and a flowing cape. Langella's performance is highly regarded by fans and critics as being one of the few high points of an otherwise lackluster film.
Ad blocker interference detected!
Wikia is a free-to-use site that makes money from advertising. We have a modified experience for viewers using ad blockers

Wikia is not accessible if you've made further modifications. Remove the custom ad blocker rule(s) and the page will load as expected.