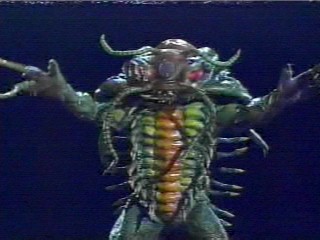 Les was running out of ideas, so the Crustaceans captured a Bogeyman called Booger Man to give Les nightmares to serve as inspiration and Shellator was created (Shellator was the monster that appeared in Les's nightmare). Shellator is a green/yellow trilobite monster who transformed into a giant during battle. The Beetleborgs managed to cut him down to normal size, then put the final blow on him with their Data Lasers.
Ad blocker interference detected!
Wikia is a free-to-use site that makes money from advertising. We have a modified experience for viewers using ad blockers

Wikia is not accessible if you've made further modifications. Remove the custom ad blocker rule(s) and the page will load as expected.