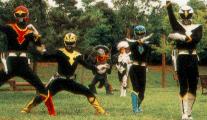 The Shadow Jetman are evil counterparts of the Jetman from episode 25, "The Laughing Shadow-People".
Light Armadillo created these evil Jetmen from their shadows, as they grow stronger, the real Jetmen grow weaker. Maria creates a forcefield of light over the city at night to create daylight so the Shadow Jetman can destroy the city. There were only four, Gai was not there when the copies were made. Gai shoots Maria so the light field goes away, the Shadow selves vanish and they can defeat Light Armadillo.
Ad blocker interference detected!
Wikia is a free-to-use site that makes money from advertising. We have a modified experience for viewers using ad blockers

Wikia is not accessible if you've made further modifications. Remove the custom ad blocker rule(s) and the page will load as expected.