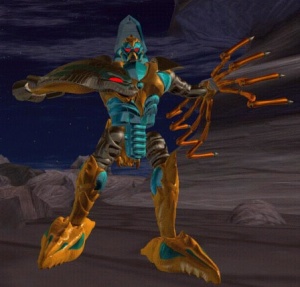 Originally a Maximal protoform, he joined the Predacons due to his more violent nature. His Fuzor form is a scorpion with a cobra's head acting as his tail. His personality closely mimics a "Wild West" gunslinger, and even talks in the typical gunslinger drawl with phrases like "what in tarnation!" and "giddy-up". He would be accidentally killed along with Inferno at the end of the series by Megatron with the weapons of the Nemesis. His snake-head shot out a type of paralyzing cyber-venom as well as laser blasts.
Ad blocker interference detected!
Wikia is a free-to-use site that makes money from advertising. We have a modified experience for viewers using ad blockers

Wikia is not accessible if you've made further modifications. Remove the custom ad blocker rule(s) and the page will load as expected.