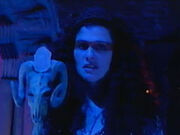 Queen Maeve is the ruthless, maniacal monarch of Temra, the nation which shares the expanse of an island with Kells. Determination fuels her will to take over Kells and has allowed her to use anything at her disposal to overthrow Conchobar and take the throne. After discovering her armies weren't strong enough to defeat Kells alone, she sought help from the Dark Fairy, Mider, to expand her magic abilities. He granted her request with a ram-head staff, and a powerful green rhinestone. With this new ability Maeve can summon creatures from the deepest areas of dark magic and send them to wreak havoc on Kells. In return, Mider asked for her help in taking over the land of Tir Na Nog.
Ad blocker interference detected!
Wikia is a free-to-use site that makes money from advertising. We have a modified experience for viewers using ad blockers

Wikia is not accessible if you've made further modifications. Remove the custom ad blocker rule(s) and the page will load as expected.