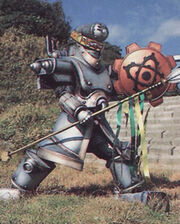 Nuklifier was summoned by Prince Gasket to destroy Kat, at Archerina's request. He wielded a spear and shot orange energy from it. he could also shoot this energy stream from a cannon in his forehead. He grew giant and couldn't be defeated by the Super Zeo Megazord and the Warrior Wheel. He was destroyed by Auric the Conqueror. "A Mystery to Me"
Ad blocker interference detected!
Wikia is a free-to-use site that makes money from advertising. We have a modified experience for viewers using ad blockers

Wikia is not accessible if you've made further modifications. Remove the custom ad blocker rule(s) and the page will load as expected.