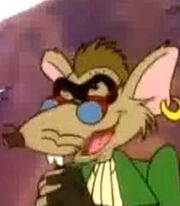 No-Tail No-Goodnik is a rat thief and the antagonist of the series. He goes to some countries and often uses fake tails when doing his duty like doing disguises. He sometimes causes people to misunderstand children like snatching a sapphire ring in Thailand. In "Teddy Bear Mice", with the efforts of Emily, Alexander and Nina, the German police rats have him arrested for stealing diamonds.
Ad blocker interference detected!
Wikia is a free-to-use site that makes money from advertising. We have a modified experience for viewers using ad blockers

Wikia is not accessible if you've made further modifications. Remove the custom ad blocker rule(s) and the page will load as expected.