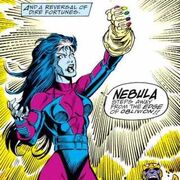 Nebula is a supervillain appearing in the Marvel Comics universe. Created by Roger Stern and John Buscema, the character first appeared in Avengers #257 (July 1985). A space pirate and mercenary the character has frequently appeared as an enemy of the Avengers and the Silver Surfer.
Nebula has appeared in several other media adaptations of the Marvel comics, including animated television series and video games. Actress Karen Gillan will play the character in the 2014 live-action film Guardians of the Galaxy.

The Infinity Gauntlet The newly resurrected Thanos was offended by Nebula's claims of kinship. He reclaimed his ship and almost killed her, using the Infinity Gems. He transformed her into a grotesque virtual corpse still barely alive, leaving her as a maimed and seemingly mindless zombie, burned and disfigured by his energy beams.[3]
When he later claimed the Infinity Gauntlet, Thanos boasted that Nebula was his greatest creation — unable to die, but not truly alive either. However, when Thanos defeated Eternity and took his place, Thanos expanded his consciousness into the universe, leaving his body comatose. Nebula managed to take the Gauntlet from Thanos, using its power to restore herself to health and banish Thanos, seeking to conquer the universe herself. Thanos agreed to help a loose band of heroes defeat Nebula. The group in question consisted of Adam Warlock, Doctor Strange, the Silver Surfer, Thor, the Hulk, Firelord, Doctor Doom and Drax the Destroyer— the only heroes that Strange had been able to locate in the time available to him. The group confronted her, and, with Thanos exploiting Nebula's inexperience with wielding the Gauntlet, she was tricked into undoing the events of Thanos's godhood and all the death and destruction Thanos wreaked with his power. The Cosmic Pantheon (which Thanos had earlier defeated) immediately appeared, and battled her. With Nebula thus distracted— lacking the knowledge to realize that they were keeping her occupied by attacking her all at once, thus preventing her from thinking of a less direct method of assault— the Surfer and Warlock were able to steal the Gauntlet from her by exploiting Warlock's connection to the Soul Gem, disrupting the unity between the Infinity Gems and forcing Nebula to drop the Gauntlet. Nebula was captured by Starfox and returned to Titan for trial, while Adam Warlock claimed the gauntlet.[4]
Nebula was later confronted by Firelord in the Titanian prison. In flashback, the murder of her abusive father was depicted.Nebula was later freed from prison by Geatar, and converted into a cyborg by Doctor Mandibus. She attempted to free her pirate crew from the "Anvil" space prison, but was thwarted by the Silver Surfer and Jack of Hearts. She killed her crew in escaping