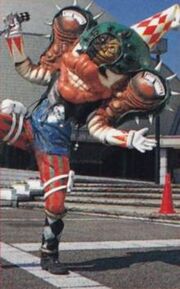 Mouthpiece was a lie-telling monster, who was to make his victims lie uncontrollably, and for each lie told, a Pirahnatron would appear. His first victim was Justin, resulting in Pirahnatrons raiding the Youth Center's volunteer Car Wash. Later, when the Rangers were to fight Mouthpiece, but unfortunately, he placed them all under the spell. Justin was able to break the spell by admitting that he couldn't stop lying, which was the truth. He then joined the battle and broke their spells and all the Pirahnatrons disappeared. The Rangers then blasted Mouthpiece with the Turbo R.A.M., but he grew huge and was destroyed by the Turbo Megazord. "The Whole Lie"
Ad blocker interference detected!
Wikia is a free-to-use site that makes money from advertising. We have a modified experience for viewers using ad blockers

Wikia is not accessible if you've made further modifications. Remove the custom ad blocker rule(s) and the page will load as expected.