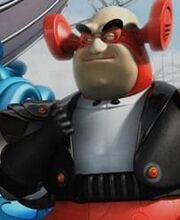 Mayor Scamboli (called Combinard in foreign films) is the villain of the movie. He is the mayor of the city, a widower whoraises his little girl alone. He has ambitions to transform the city, removing all signs of nature and replacing it with aesthetic metal and technology. He does greatly love his daughter and is very protective of her. He is controlling, and sees children and life as a random factor he cannot account for, motivating him to transform both into something he understands: metal.
Ad blocker interference detected!
Wikia is a free-to-use site that makes money from advertising. We have a modified experience for viewers using ad blockers

Wikia is not accessible if you've made further modifications. Remove the custom ad blocker rule(s) and the page will load as expected.