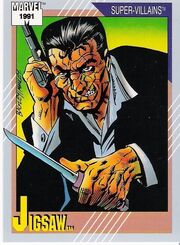 Billy Russo was a professional criminal and brutal assassin for the Maggia crime family, nicknamed "the Beaut" because of his good looks. He was also a favorite assassin for the Costa crime family. After the execution-style killings that inadvertently led to the deaths of Frank Castle's family, Russo was hired by Bruno Costa to assassinate another assassin who had failed to kill Frank Castle as well. Russo kills all of his targets but Castle, who narrowly avoids death in an explosion. Hours later, Castle returns and tracks down Russo to one of the Maggia's nightclubs. Several criminals were killed, and Russo was thrown through a glass pane head-first. He survives with his face torn to shreds; because of the extent of the facial damage, surgeons stitch it back together like a jigsaw puzzle.
Ad blocker interference detected!
Wikia is a free-to-use site that makes money from advertising. We have a modified experience for viewers using ad blockers

Wikia is not accessible if you've made further modifications. Remove the custom ad blocker rule(s) and the page will load as expected.