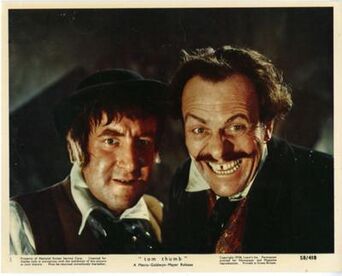 Ivan & Tony are a pair of crooks in the 1958 film adaptation of Tom Thumb. They frequently exploit Tom character for profit. They were potrayed by Terry Thomas (Ivan) and Peter Sellers (Tony).
One such example was Ivan lied to Tom Thumb that the Mayor was hoarding money to keep for himself rather than sharing it out to everyone else. Ivan convinced Tom to go down a manhole and hook up the stashed money onto a piece of twine for Iven and Tony. In actuality Ivan and Tony wanted the money to themselves.
Ad blocker interference detected!
Wikia is a free-to-use site that makes money from advertising. We have a modified experience for viewers using ad blockers

Wikia is not accessible if you've made further modifications. Remove the custom ad blocker rule(s) and the page will load as expected.