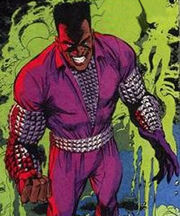 Hardcore is a fictional character in the Marvel Universe.
Hardcore is an assassin and enforcer whose hands could cut through steel, and who served as an enemy of Cage Hardcore is the employ of Cruz Bushmaster, and first clashed with Cage soon after Cage began operating out of Chicago.Hardcore then clashed with Dakota North while stealing information on Cage's past.Hardcore next sent the Untouchables (Kickback, Nitro, and Tombstone) to attack Cage and capture Dakota North.Kickback attempted a rebellion against Hardcore, but Hardcore thwarted the rebellion.Hardcore nearly succeeded in killing Cage. hardcore then blew up the "Black Hole" in Colorado.
Later, Hardcore held Cage, his brother and father, and Dr. Noah Burnstein prisoner in St. Croix, the Virgin Islands. Hardcore was revealed to have persuaded Mickey Hamilton to work against Cage, and oversaw Burnstein's endowment of Cruz Bushmaster with superhuman powers. Hardcore also fought Cage once more. Hardcore apparently was killed in an explosion of the automobile he was driving (and the detonation of one of his own manrikisas) when it plunged into water.