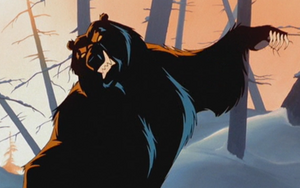 The Grizzly Bear is the unnamed secondary antagonist in the original film Balto and Balto II: Wolf Quest. During the wolf-dog's journey to find the missing relay anti-toxin team. The grizzly bear appeared to be stalking the group consisting of Balto, Boris, and Muk and Luk for several moments before Balto finally caught scent of the danger. A fierce confrontation erupted between the crazed giant and Balto.
Although small and more agile, the wolf-dog was unable to avoid the behemoth; becoming trapped and nearly crushed beneath his paw. Had it not been for the swift arrival of Jenna, Balto would have easily been killed. Still relentless, the grizzly bear injured Jenna and managed to engage Balto once more. Having learned a strategy, Balto lured the grizzly bear onto the frozen ice; managing to dispose of the giant in the icy depths of the lake at nearly the cost of his own life.
When Aleu leaves the crystal cave and sees day light, a huge and furious brown Grizzly Bear attempts to kill Aleu. Balto arrives, distracts the grizzly bear, saves Aleu, they both escape and the grizzly bear disappears.
Ad blocker interference detected!
Wikia is a free-to-use site that makes money from advertising. We have a modified experience for viewers using ad blockers

Wikia is not accessible if you've made further modifications. Remove the custom ad blocker rule(s) and the page will load as expected.