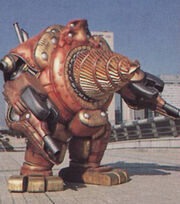 Originally a monster from Adam's dream who battled,alongside a Quadrafighter in land mobility, and was defeated by Tommy, Drill Master was built for real by the Machine Empire as one of the newly improved robot warriors that received the Neo-Plutonium Armor. He was destroyed in an underwater battle by Super Zeo Zord IV. "It Came From Angel Grove"&"A Golden Homecoming"
Ad blocker interference detected!
Wikia is a free-to-use site that makes money from advertising. We have a modified experience for viewers using ad blockers

Wikia is not accessible if you've made further modifications. Remove the custom ad blocker rule(s) and the page will load as expected.