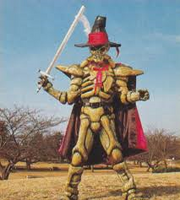 Dora Skeleton (ドーラスケルトン, Dōra Sukeruton, 2): A skeleton with a large hat, who could reassemble his body after being blown apart. The Rangers went after him when Dora Skeleton was sent to retrieve a shuttle.
His flying, disembodied skull could teleport people to a shadowy world. He was the only Dora Monster with his own grunts. Killed when TigerRanger threw his head down a lava pit causing his body to be destroyed.
Ad blocker interference detected!
Wikia is a free-to-use site that makes money from advertising. We have a modified experience for viewers using ad blockers

Wikia is not accessible if you've made further modifications. Remove the custom ad blocker rule(s) and the page will load as expected.