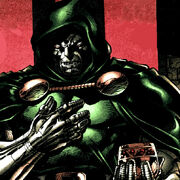 Doctor Doom (Victor von Doom) is a fictional character that appears in publications by Marvel Comics. The son of gypsy witch Cynthia Von Doom, Doctor Doom is a recurring supervillain, archenemy of the Fantastic Four, and leader of the fictional nation of Latveria. He is both a genius inventor and a sorcerer. While his chief opponents have been the Fantastic Four, he has also come into conflict with Iron Man and other superheroes in the Marvel Universe.
Ad blocker interference detected!
Wikia is a free-to-use site that makes money from advertising. We have a modified experience for viewers using ad blockers

Wikia is not accessible if you've made further modifications. Remove the custom ad blocker rule(s) and the page will load as expected.