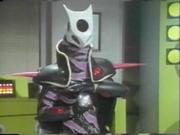 His brain was stolen by Typhus and placed into Hillhurst mansion. Whoever held the brain, their worst fears were brought to life (with Jo facing her Aunt May and her "slobbery kisses," Count Fangula facing his "nightmare" of an ex-wife, and Drew facing giant broccoli). When Dicehead came to life, he was clueless and idiotic (and speaking in surfer slang). Once reunited with his brain, Dicehead's intelligence was restored, making him extremely dangerous (and his real voice was deep and fiercer). To defeat him, the Beetleborgs had to confuse him, causing his brain to shatter, his intelligence to dissipate, and his defeat to come quick. He later reappeared in the "Curse of the Shadow Borg" saga and later released by Nukus amongst the other monsters. Both of those times he was wiped out by Drew's Thunder Stinger (in Mega-Blue mode).
Drew mentions that Dicehead was from issue #125 of the comics.
Ad blocker interference detected!
Wikia is a free-to-use site that makes money from advertising. We have a modified experience for viewers using ad blockers

Wikia is not accessible if you've made further modifications. Remove the custom ad blocker rule(s) and the page will load as expected.