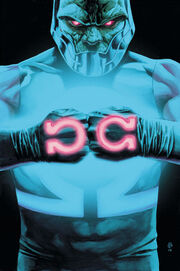 Darkseid is a fictional character who appears in DC Comics. He first appeared in Superman's Pal Jimmy Olsen #134 (November 1970) and was created by writer-artist Jack Kirby.[2] Darkseid is one of the most powerful and evil characters in the DC Universe. Debuting in the Bronze Age of Comic Books, he has appeared in four decades of DC Comics publications, featuring prominently in the New Gods titles and limited series as the nemesis of the New Gods and Superman (and by extension the Justice League). He has also been associated with DC Comics merchandise including animated television series, toys, trading cards and video games. Darkseid was ranked number 6 on IGN's top 100 comic book villains of all time.[3]
Ad blocker interference detected!
Wikia is a free-to-use site that makes money from advertising. We have a modified experience for viewers using ad blockers

Wikia is not accessible if you've made further modifications. Remove the custom ad blocker rule(s) and the page will load as expected.