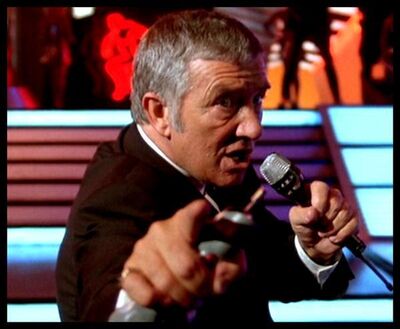 He's been in the entertainment business for decades, and he knows what the people want: blood, carnage, death, destruction... In other words:entertainment. Such is the draw of the ICS Network's wildly successful TV game show, The Running Man, and the man behind it all, Damon Killian (Richard Dawson).
Produced with the cooperation of the Entertainment Division of the Justice Department, the show brings the world's most lethal and notorious criminals to justice while also giving them the chance to cheat death and/or interminable confinement. They can (supposedly) win their freedom by defeating the game's "stalkers" - trained killers with high-tech weaponry - and millions of screaming fans. Imagine the death penalty enforced by the WWE and you may get a clearer picture.
The ringleader of the circus is Killian, a seasoned TV veteran with a big ego and a loud mouth who has crafted The Running Man into a phenomenon, and is about to bring in his biggest contestant. Ben Richards (Arnold Schwarzenegger), a.k.a. The Butcher of Bakersfield, took the fall when hundreds of civilians were killed by the military. Now, he's being forced to run for his life, literally, while, at the same time, hoping to prove his innocence.
In between smooching little old ladies, Killian has relied on the game show to line his pockets and further his own image, all while dishing out a little bit of justice at the same time. When Richards gets involved, however, and starts fighting back, everything begins to collapse. Killian's thirst for higher ratings gets him in deep trouble, and when Richards finds his way out of the game and proves his innocence, he comes looking for the man in charge. How ironic that Killian meets his fate giving the people what they want: death and justice.
INTELLIGENCE - 6: Sometimes shrewd, always overbearing, occasionally whiny.
POWER - 3: He's a weak, older man: no match for Ah-nold.
VILENESS - 5: Doesn't give a crap about anybody except for himself.
SWAY - 9: All great game show hosts have tons of charisma.
PURITY - 9: Greedy and vain, he's all about the ratings.
PHYSICAL - 2: All movies from the 80s had its share of bad suits. His is one of them.
Ad blocker interference detected!
Wikia is a free-to-use site that makes money from advertising. We have a modified experience for viewers using ad blockers

Wikia is not accessible if you've made further modifications. Remove the custom ad blocker rule(s) and the page will load as expected.