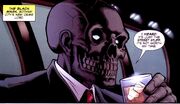 Black Mask's parents were "frenemies" with the Waynes, which started Sionis's early hatred of Bruce. His self-absorbed parents continued to care more about their social status than their son, until he burned his family mansion down with his parents still inside. Growing up to be a powerful criminal mastermind, Black Mask single-handily took over the entire Gotham Mafia, and was also able to secure most of the corrupt Gotham P.D. on his payroll (including Harvey Bullock). As a shrewd businessman, he was able to attack Bruce Wayne financially – presenting a double-sided threat, without knowing that Batman and Bruce were are the same man
Ad blocker interference detected!
Wikia is a free-to-use site that makes money from advertising. We have a modified experience for viewers using ad blockers

Wikia is not accessible if you've made further modifications. Remove the custom ad blocker rule(s) and the page will load as expected.