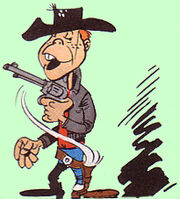 Die Figur des Billy the Kid, dem kleinen Bengel mit den kurzen O-Beinen, den roten Haaren und dem Stupsnäschen im sommersprossigen Gesicht ist angelehnt an William Bonney, einen legendären Verbrecher, der sein Unwesen in New Mexico trieb.
Billy the Kid ist ein Gegensatz in sich: einerseits der furchterregende, linkshändige Revolverheld, andererseits das sensible, auf Bekanntheit erpichte, manchmal sogar weinende Kind. William Bonney alias Billy the Kid war ein echter Verbrecher: Mit fünfzehn Jahren kam er zum ersten Mal mit dem Gesetz in Konflikt, mit siebzehn erschoss er zum ersten Mal einen Menschen und schon mit 21 Jahren wurde er selbst von einem Sheriff erschossen.
Abgesehen von seiner Neigung, gelegentlich zu töten, soll er allerdings ein hilfreicher, meistens freundlicher, treuer Jüngling gewesen sein. Im Gegensatz dazu verhält sich der Comic-Billy gegenüber seinen Mitmenschen so rücksichtslos und einschüchternd, dass alle große Angst vor ihm haben. Doch getötet wird niemand!
Eine deutliche Parallele haben Morris und Goscinny durch das Äußere des Comic-Billys hergestellt: Ebenso wie William Bonney ist er klein und dürr und stets darauf bedacht, seine Männlichkeit unter Beweis zu stellen.
Ad blocker interference detected!
Wikia is a free-to-use site that makes money from advertising. We have a modified experience for viewers using ad blockers

Wikia is not accessible if you've made further modifications. Remove the custom ad blocker rule(s) and the page will load as expected.