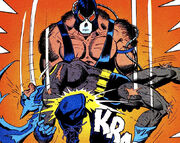 Bane is a supervillain who appears in DC Comics. The character's origin was in Batman: Vengeance of Bane #1 (January 1993), and was created by Chuck Dixon, Doug Moench, and Graham Nolan. Bane has been one of Batman's more physically and intellectually powerful foes. He is often credited for being the only villain to have "Broken The Bat".
Ad blocker interference detected!
Wikia is a free-to-use site that makes money from advertising. We have a modified experience for viewers using ad blockers

Wikia is not accessible if you've made further modifications. Remove the custom ad blocker rule(s) and the page will load as expected.