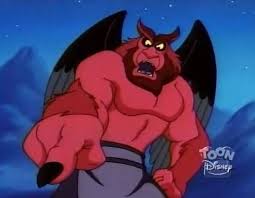 Amok Mon-Ra (sometimes spelled "Amok Mon Ra" and errronously called "Amok Mongra") is a very powerful ancient demonic being who is said to be malevolence incarnate and therefore completely unreasonable, and he is the main antagonist of the episode "Hero With A Thousand Feathers" of the Aladdin animated TV series.
He is voiced by legendary Tim Curry who also voiced another Aladdin villain Caliph Kapok.
Ad blocker interference detected!
Wikia is a free-to-use site that makes money from advertising. We have a modified experience for viewers using ad blockers

Wikia is not accessible if you've made further modifications. Remove the custom ad blocker rule(s) and the page will load as expected.